Viva Colores: A Salute to the Indomitable People of Guatemala (Hardcover)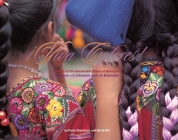 $39.95
Email or call for price.
Description
---
The joyful cacophony of color that envelopes visitors to Guatemala may seem misplaced at first. After all, the nation has only recently emerged from a 36-year civil war that destroyed its infrastructure and claimed more than a million lives. But to the authors of ¡Viva Colores!: A Salute to the Indomitable People of Guatemala, it is a vivid expression of a 1,500-year-old spirit that refuses to die. Photographer Paola Gianturco and writer David Hill offer inspirational profiles of a people who have endured and, indeed, gained strength, thanks to the bounty of their land, their beliefs, traditions, and kinship with one another. People like Luis.

Luis was orphaned as a small child. The aunt and uncle who took him in sent him into the streets to hawk trinkets and cadge pesos from tourists. He quickly figured out that he could do better if he learned the tourists' language, so he taught himself English. At 18, he became a licensed tour guide. Five years later, he was begging again, a homeless panhandler, brought low by demon rum. Then he found AA, which helped him get sober and gave him a reason to live. He traveled his country, launching AA programs. Today, he's a doting grandfather and popular tour guide. Luis' story is but one of many Gianturco and Hill have discovered in their travels through Guatemala. Readers of their book will enjoy-and be inspired by-many more.
About the Author
---
Paola Gianturco, author-photographer, has documented women's issues in 62 countries for six powerHouse Books. Grandmother Power: A Global Phenomenon (2012) won four first place literary awards in categories as diverse as multicultural nonfiction and women's studies. Wonder Girls: Changing Our World is third in a triptych. Women Who Light the Dark described women activists; Grandmother Power told about grandmother activists. Paola's images have been exhibited at the United Nations, UNESCO, The US Senate, The Field Museum/Chicago, The Museum of the African Diaspora/San Francisco, The Norton Simon Museum/Pasadena, The Grand Rapids Public Museum and more. She lectures internationally, presented a TED talk in Dubai, and has been a guest on The Oprah Winfrey Show, CNN, NPR and Voice of America programs among others. Paola serves on the advisory boards of two nonprofits: Rise Up/Let Girls Lead (which empowers girls to advocate for policy change) and Global Grandmothers (who support children in need internationally). In 2013 Paola was listed among "40 Women to Watch Over 40," and in 2014, Women's e-News named her one of 21 Leaders for the 21st Century.