Darfur: Twenty Years of War and Genocide in Sudan (Paperback)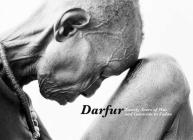 $29.95
Email or call for price.
Description
---
Even by conservative estimates, the situation in the Darfur region of the Sudan is grave. There are 3.5 million people who are hungry, 2.5 million who have been displaced by violence, and 400,000 individuals who have died since the crisis began in 2003. The international community has failed to take steps to protect civilians, or to influence the Sudanese government to intervene. The spread of violence, rape, and hate-fueled killings across the border into Chad is simply the latest atrocity. Call it war. Call it genocide. Call it famine. There is no single word to describe the plight of these people. They face all of these horrors at once.

In answer, Proof: Media for Social Justice, Amnesty International, and the Holocaust Museum of Houston have partnered to create Darfur: Twenty Years of War and Genocide in Sudan. The book covers three periods in the Sudan crisis, including images shot in 1988, when an estimated 250,000 Sudanese died of starvation; images from 1992 and 1995 that capture the atrocities of a civil war, when hundreds of thousands fled their homes to other destinations in Sudan or left the country altogether; and images from 2005 and more recently, bringing to light the severity of the humanitarian crisis underway, with the Sudanese government and the Janjaweed militias committing systematic violence on the people of Darfur.

A handbook is included that provides website links and additional resources for readers to pursue. It specifies measures they can take to make their voices heard so the people of Darfur do not feel forgotten.

All proceeds from the book will benefit Amnesty International and Genocide Intervention Network.
About the Author
---
Leora Kahn is the founder of Proof: Media for Social Justice, a nonprofit organization whose mission is to create awareness of the issues faced by populations in post-conflict societies and to encourage social change through the use of photography and education. Kahn has served as the director of photography at Workman Publishing and Corbis, and is currently at work on global projects with Amnesty International, Participant Films, and the United Nations. She recently edited the Lucie Award winningDarfur: Twenty Years of War and Genocide in Sudan (powerHouse Books, 2007) in collaboration with Amnesty, and curated an accompanying exhibit that will tour the U.S. this year with the Holocaust Museum Houston. Kahn is currently working on an exhibition in Rwanda with Aegis Trust about Hutu rescuers during the genocide.