We Are Experienced (Hardcover)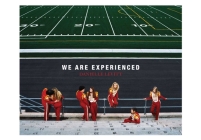 $55.00
Email or call for price
Description
---
Danielle Levittarrived at her distinctive photographic style capturing street fashion, pop culture, and celebrity for countless publications. While producing this commercial work, Levitt also pursued her passion for documenting American youth. The result is We Are Experienced, Levitt's first monograph, a series of portraits depicting adolescents in a variety of urban, suburban, and rural settings, as individuals and in groups, loaded with signifiers both mainstream and marginal.

We Are Experiencedincludes football stars, tanorexics, wiccans, punks, prom dates, snowboarders, and baton twirlers. Levitt revels in the beauty of the age and its incomparable potential. She also exposes an advanced awareness particular to a generation. The notion of strident youthfulness was invented in the last century; today it is an understood quantity, a streamlined experience. Levitt's subjects are well-schooled in the expectations, limitations, and developmental strategies of growing up American, and have unparalleled resources to identify in a multitude of ways. We Are Experienced is a lushly stylized archive of the choices they make.
About the Author
---
Danielle Levittis a New York-based photographer with a wide following in the fashion and art worlds. In addition to her ongoing professional work for numerous publications including The New York Times Magazine, GQ, Arena Homme Plus, and New York magazine, she has created advertising campaigns for Intel and Target. Her photographs have been exhibited at the Cynthia Broan Gallery, C&M Arts, and Riva Gallery, New York, and most recently at Sweeney Art Gallery in Riverside, California. Mark Jacobsis a New York-based style and culture writer and editor who contributes to The New York Times Magazine, i-D, V, and V Man. Formerly a Senior Editor at Paper magazine, he is currently a Senior Editor at O, The Oprah Magazine. He is also a creative consultant for clients including Target. Australian-bornTim McIntyreis Creative Director of Rodeo magazine Italy, and Art Director of the Berlin-based art biannual Qvest Edition. Formerly Art Director of menswear biannual Arena Homme Plus for seven years, he has also guest art directed issues of i-D and The Face. He is now based in London.