The Brooklyn Navy Yard (Hardcover)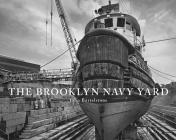 $50.00
Email or call for price.
Description
---
New York City's largest and oldest industrial facility, thehistoric Brooklyn Navy Yard occupies 250-acres on the EastRiver between the Williamsburg and Manhattan Bridges, andis presently one of New York City's major industrial sites. Oneof the last remnants of Brooklyn's industrial supremacy, theYard has experienced tremendous change: functioning from theage of wind to that of diesel. As a cradle of naval evolution,the Yard has had to reinvent itself constantly, and this is madeevident by the presence of buildings and structures spanningfrom the 1830s to the 1950s. The Navy Yard was shut downin 1966 and reopened again in 1971 when the City of NewYork bought it with the intention of redevelopment. Great shipsare still repaired there, and the Yard, now an industrial parkwith a variety of manufacturers and light industries, functionsas a refuge from a city that has mostly forgotten that a mixedeconomy is a key to its survival.

The Brooklyn Navy Yard, the first monograph by JohnBartelstone, offers a quiet and striking look at the Yard asa time capsule of industrial New York. The Yard today is afusion of the sublime and the practical, with eerie abandonedelements existing side by side with vibrant businesses.Bartelstone's camera is partial to the former. The imagesshow a place out of time, where World War II New York is stillpalpable. Bartelstone has been photographing the buildingsand structures of the Yard since 1994. His photographs areneither a history of the Navy Yard nor a depiction of its role asa modern industrial park; the book instead offers a structuredimpression of a dreamscape.
About the Author
---
John Bartelstone is a New York based architecturalphotographer. He originally trained as a recording engineer atSyracuse University. After working in the recording industryfor a few years, he enrolled in the Master of Architectureprogram at Columbia University and upon graduation,began a ten-year architecture career. That time was spentin the Engineering Department of the Port Authority of NewYork and New Jersey, where a love for infrastructure wasfurther kindled. Then, in 1996 he started a new career as afreelance architectural photographer. Thomas Flagg works as a researcher and instructor at theState University of New York, College of Optometry. Since1966 he has been researching the Port of New York and itsrailroads, leading to professional documentation of industrialsites in connection with cultural resource surveys. He is afounding member of the Rail Maritime Information Group.He is also a member and past president of the Society ofIndustrial Archeology, and the author of two books about therail history of New York Harbor.