Short Stories of the Transparent Mind (Hardcover)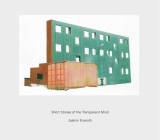 $50.00
Email or call for price.
Description
---
What is our direct experience? What does it mean that we are aware, and how do we even define awareness? What does it truly mean to be alive in every moment?

Short Stories of the Transparent Mind personally and directly explores the nature of perception. As humans, we often layer our preconceived notions and ideas on top of an existent reality not actually governed by our imposed systems of understanding. Short Stories uses visual experimentation to expose the naked moments that are there before we start to define, control, and obscure our experience with our interpretations. The stories draw attention to what we perceive before our dualistic mind asserts itself-before the judgmental tendencies of good or bad, right or wrong, begin to appear.

The work in Short Stories of theTransparent Mind was selected as a candidate for the Prix Voies Off 2009 in Arles, France, and an exhibition of the work will be shown during Mois de la Photo in Paris in 2010.

"Eneroth's spiritual practice, and his camera's trained inner eye, allow him to peel back the layers of the self and the external surfaces that obstruct our inner vision. The result is a profound meditation on the key Buddhist concepts of Impermanence and Emptiness in contemporary life, and the fullness that emerges within us when our inner mirror is finally polished and the clutter long blocking our vision is cleansed."
-Bill Viola, video artist
About the Author
---
Joakim Eneroth is a Swedish artist and photographer whose work has been exhibited in solo and group shows internationally. His works are held in the collections of Moderna Museet, Stockholm; the Museum of Fine Arts, Houston; Dallas Museum of Art; and the Brooklyn Museum, New York. The work in Eneroth's first book, Without End (Journal, 2003), received the Prix Voies Off 2005. His other books include Testimony (Culture Art Technology, 2008), and Swedish Red (Steidl, 2009). Patrick Amsellem is the Associate Curator of Photography at the Brooklyn Museum. He received a Ph.D. in Art and Architectural History from New York University's Institute of Fine Arts and was formerly a curator at the Rooseum Center for Contemporary Art in Malmö, Sweden.