Kodachrome Memory: American Pictures 1972-1990 (Hardcover)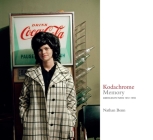 $50.00
Email or call for price.
Description
---
As America huffed its way to the end of the '70s, a change more profound than any one cultural trope's evolutionary death knell was taking place. Perceptively distilled in a new volume of photographs by longtime National Geographic shooter Nathan Benn, Kodachrome Memory: American Pictures 1972-1990 depicts an America of boisterous legend and vibrant regionalism, teetering on the cusp of the coming Information Age's great cultural flattening.

Nathan Benn embraced color photography before it was considered an acceptable medium for serious documentary expression, traveling globally for National Geographic magazine for two decades. In revisiting his archive of almost half a million images, and editing his photographs with a 21st-century perspective, he discovered hundreds of unpublished American pictures that appeared inconsequential to editors of the 1970s and 1980s, but now resonate-in beautiful Kodachrome color-with empathic perspectives on everyday life in forgotten neighborhoods.

Kodachrome Memory exemplifies forthright storytelling about everyday people and vernacular spaces. The photographs, organized by geographic and cultural affinities (North East, Heartland, Pittsburgh, and Florida), delight with poetic happenstance, melancholy framing, and wistful abandon. The past, an era heavily eulogized, comes alive again in its deliciously homely demeanor, and glorious Kodachrome hues. Yes, this is your father's America. An essay by scholar Paul M. Farber contextualizes the creation and selection of these images, offering a fresh perspective about color photography on the eve of the digital revolution.

"Mr. Benn's [Kodachrome Memory] is a study of regional texture, the fruit of two decades as a photographer for National Geographic. Mr. Benn's unshowy compositions and the rich, clear colors of his Kodachrome slide-film make his images seem both timeless and particular."
-The Wall Street Journal

"Kodachrome Memory celebrates the significance of American regional diversity as it was 30 or 40 years ago, before the advent of Internet culture and before the country became one vast strip mall stretching from sea to sea. The seemingly inconsequential subjects of Benn's photographs-which are keenly observed and evocative of a time and place-act as metaphors for American culture and values. Although much of Benn's work was done for a magazine and not gallery walls, his use of color throughout holds its own with artists of the period such as William Eggleston and Stephen Shore."
-Richard Buckley

"Even if you've never seen Nathan Benn's photographs from the 1970s, they feel somehow familiar-like the refrain of a half-remembered song. With a uniquely American mix of formality and ease, and a color palette so tart you can almost taste it, Benn makes the past vividly-even painfully-present. So there's nothing nostalgic about his pictures of parades, homecomings, and town meetings, juke joints and barbershops, front porches and back roads, because you are there. Maybe that's why Kodachrome Memory: American Pictures 1972-1990 feels like an instant classic."
-Vince Aletti
About the Author
---
Nathan Benn was born in Miami, Florida, and worked for the Miami News while attending Miami-Dade College and the University of Miami. Immediately after graduation he became a photographer for the National Geographic Society. Three-hundred of his photographs were published in National Geographic magazine, and hundreds more in numerous books. In 1991 he was co-founder and President of Picture Network International, the earliest Internet digital asset management and online stock photo licensing platform. From 2000 through 2002, Nathan was the Director of Magnum Photos, Inc. In 2013 powerHouse Books published his award-winning monograph Kodachrome Memory: American Pictures 1972-1990.
Praise For…
---
"...while Mr. Benn didn't set out to assemble a book 40 years later composed exclusively of Kodachrome work, it happened that that work made up the bulk of his best-preserved images." -New York Times LENS blog

"Mr. Benn's unshowy compositions and the rich, clear colors of his Kodachrome slide-film makes his images seem both timeless and particular."
-Wall Street Journal

"In picture after picture, America emerges with beguiling freshness"
-The Independent

"[Kodachrome Memory] conjures a by-gone Americana that's poignant, humorous, and full of contrasts: society ladies and impoverished families, vintage cars and aerial crop dusters, lonely rebels and flag wavers. And slide shots evince more surprises from a visually rich era."
-American Photo

"Nathan Benn...filled [Kodachrome Memory] with common place objects and people but his images are the product of careful study and imagination. They evoke a sense of time and place and a true feeling of "Americana". It is a beautiful reflection of the time when both Kodachrome photography and America were celebrated"
-Apogee Photo Magazine

"[National Geographic] always had important messages to convey and Benn did his best to oblige. Yet that is not why his best pictures ravish us today: despite the passage of time...what remains are the elemental seductions of his craft, a four-way love affair between America, Kodachrome, Leica and gorgeous light."
-The Independent

As seen on:

Slate.com