Lovin' My Car: Women in the Driver's Seat (Hardcover)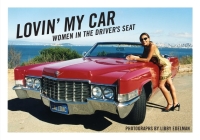 $24.95
Email or call for price.
Description
---
Grease monkeys, gear heads, collectors, hobbyists, and speed freaks, to name just a few of the car and truck lovers out there all share a passion for their beloved motor vehicles. There are endless reasons to love the thrill of the road, the horsepower, and freedom that comes with it all; but who says women can't be just as fanatical as men?

Fashion director, author, and photographer, Libby Edelman unveils intimate portraits of a community of women from all walks of life who share an automotive love. Some cars are fancy, others quirky, and most are everyday cars, but all have proud women owners who share personal stories of what their cars and trucks mean to them in,Lovin' My Car; Women in the Driver's Seat.

First inspired by her husband, Sam, and son, Jesse, and their endless banter about new makes and models, the finer details of engines and their sizes, the know-how and questions about maintenance and repair, Libby found herself fascinated by men's obsession with cars-and wondered if women were equally obsessed? Libby soon discovered female automotive enthusiastseverywhere-including one woman who loved her car so much that her family buried her in it! With their collective passion in mind, Libby hit the road, traveling across the country to meet and speak with women about their love for cars and trucks.

Over the course of her 20-year journey, Libby learned there are endless reasons why women love their cars-the horsepower, the thrill of the road, and the freedom that comes with it. From discovering one's self to rediscovering a favorite song, this book shares unique stories of women and their relationships with their cars, with a compelling and unique perspective, captured by Libby and her lens.
About the Author
---
Libby Edelmanbegan her career as a fashion editor atHarper's Bazaarand laterSeventeen, before working as public relations Director for Calvin Klein. During her time in publishing, Libby met aspiring designer Sam Edelman, who would later become her business partner and husband. The couple worked together to build Esprit Footwear into one of the most recognizable brands of the 1980s before launching their eponymous company, Sam & Libby in 1987. In 2004, they co-founded Sam Edelman, a lifestyle brand inspired by timeless American elegance that bridges the gap between aspiration and attainability to define modern luxury. Today, Libby serves as the senior vice president of Sam Edelman, a division of Caleres, Inc. In addition to her passion for family, cooking, travel, and photography, Libby continuously merges her love of fashion and philanthropy working with several causes close to her heart. Libby currently resides in New York City with Sam and their Jack Russell Terrier, Squeex.
Praise For…
---
As seen on: 360 Magazine, Classic Cars, Harper's BAZAAR, The Eye of Photography and SPIEGEL