Store Front: The Disappearing Face of New York (Hardcover)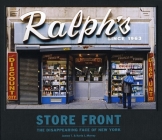 $35.00
Email or call for price.
Description
---
Store Front (Mini) is a new, compact version of the critically acclaimed bestseller Store Front: The Disappearing Face of New York, by James and Karla Murray. The Murrays' brilliant documentation of New York's irreplaceable, generations-old storefronts has made headlines all over the world. For many of these establishments, the photographs mark the end of a legacy. In the wake of gentrification, vital facets of New York's cultural heritage are disappearing at an alarming rate. Store Front (Mini) immerses the reader in a virtual tour of NYC at its most authentic. From tiny stores tucked away on narrow side streets to well-known institutions on historic avenues, this book presents the individual images and shop owner stories that together make up a collective history. Up until now, there has been little attention paid to New York's storefronts; this book reverses that glaring omission and makes clear that the spirit of New York City is etched in its facades. The influx of big box retailers and chain stores pose a serious threat to these humble institutions, and neighborhood modernization and the anonymity it brings are replacing the unique appearance and character of what were once incredibly colorful streets. Store Front is a visual guide to New York City's timeworn storefronts, a collection of powerful images that capture the neighborhood spirit, familiarity, comfort and warmth that these shops once embodied.