I am the Wind (Hardcover)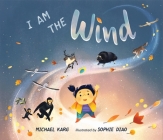 $17.99
Email or call for price
Description
---
Join the wind as it swings, swirls, and soars on its remarkable journey around the globe.

I whoosh over tundra,
yodel over Everest,
skim westward on whitecaps!

With dynamic text and atmospheric illustrations, this book invites you to celebrates the world all around us through the unique perspective of the wind. Journey through the frozen forests and bayou bogs, wonder at the northern lights, and meet unique animals like wolverines and olinguitos along the way.

I am the wind and I am everywhere!
About the Author
---
Sophie Diao is an artist in San Francisco. As research for the book Sarah and the Big Wave, she surfed a wave that she's pretty sure was over one foot tall. She loves illustrating natural wonders and is the talent behind many a Google Doodle.
Praise For…
---
"A gorgeous, breathtaking experience." — Kirkus Reviews, starred review

"Playful, evocative text and art define this creative nonfiction picture book [...] I Am the Wind serves as an age-appropriate introduction and global ode to this restless force of nature." — Shelf Awareness