Mrs Bibi's Elephant (Hardcover)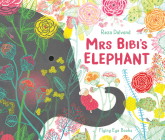 $16.95
Email or call for price
Description
---
A heartwarming story with a message as big as an elephant, this fanciful tale of friendship between an eccentric lady and her beloved pet is as poignant as it is beautiful.

When Mrs Bibi is told her pet elephant has to go, she reluctantly packs her bags and heads off somewhere where they can live together in happiness. But what they both leave behind is far bigger than the other people in the town could have ever imagined. Delicate artwork compliments messages of acceptance, tolerance, and love in this moving story.
About the Author
---
Reza Dalvand was born in Andimeshk, Iran. After studying graphic design at Isfahan University of Art, he went on to
complete a master's degree in Illustration at the University of Tehran, where he currently lives. Reza has illustrated many books for children and his work has been internationally recognized.
Praise For…
---
"Delicate lines, pastel colors, and finely worked patterns give coziness to Dalvand's spreads. His didactic portrayal of the tension between the eccentric pet owner and her neighbors make it clear where his sympathies lie as Mrs Bibi's neighbors discover that quality of life can exist outside mundane concerns."
—Publishers Weekly

"The story achieves the elegant simplicity of a fable—or, perhaps, a lost chapter of The Little Prince. Many readers will feel liberated by the ending, in which every child gets a new pet, but the real appeal is in the impossible details. A house is covered—like a quilt—with an elaborate floral pattern. The capital R in the type even resembles a tiny elephant. No matter how often children open this book, they'll always discover something new."
—Kirkus Reviews

"Dalvand, an Iranian author/illustrator, explores the feelings and reactions that surround anxiety about diversity through a global symbol of unity—an elephant. A range of emotions—from fury to felicity—is expressed through intricate illustrations rendered in vivid pinks, reds, and yellows interspersed among muted grays, greens, and blues."
—School Library Journal

"It is beautifully illustrated […] It's a book of love and acceptance and it is positively lovely."
—Book Nerd Mommy

"Mrs. Bibi and her elephant decide to leave town because they're not valued in the community, and because the others in town prefer stock markets and fancy chandeliers over friendships and pets.  When she and her elephant leave, the children are sad and eventually the town does realize that having pets and forming meaningful community connections are better than material objects."
—The Tiny Activist