Virtual Book Launch: Mercy by Marcia Trahan in conversation with Rachel Monroe
Submitted by
chris
on Wed, 05/06/2020 - 2:35pm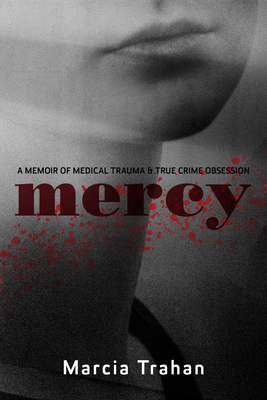 RSVP required.
Please fill out the form here if you plan on attending.
PLEASE NOTE: Submitting an RSVP for this event DOES NOT guarantee entrance. This is a free-access event — entrance will be on a first-come, first-served basis. All events are hosted via Zoom. Click to register if you are interested to join, and you'll get a reminder when it's time to log in.

________________________________
About the Book:
When Marcia Trahan began watching true crime television, she did so in secret. She felt ashamed by her fascination with these violent stories, and how hungrily she consumed one gruesome tale after another. Only years later did she start to connect the dots between her true crime obsession and the series of invasive medical procedures that had left her feeling victimized and violated.
Can the body tell the difference between an attacker's knife and a surgeon's? This is the central question in Mercy, a question that leads Trahan to re-examine her body's reaction to lifesaving medical treatment, the childhood experiences that first made her feel unsafe in her own skin, and the true crime genre's most common tropes.
Part searingly honest memoir, part incisive cultural criticism, Mercy explores the appeal of true crime and the way so many of us live our whole lives bracing for an attack.
Advance Praise for MERCY
"Mercy is a harrowing exploration of Marcia Trahan's lifelong fascination with true crime despite her best efforts to escape its dark pull. By turns cultural criticism and personal journey, the book is a painful reckoning with the realities of living in a female body under the specter of the male gaze."
-Carolyn Murnick, author of The Hot One
"Marcia Trahan treats television the way it should be treated — as worthy of deep intellectual and emotional investigation, a companion inseparable from the pain and joys of our own lives. She writes with as much sharp insight as she does beautiful vulnerability. MERCY is memoir, it's criticism, it's a light shining into all the hard places that are easier to avoid."
-Lucas Mann, author or Lord Fear: A Memoir, and Captive Audience: On Love and Reality Television
"Written with polished craft and sly wit, Marcia Trahan's memoir "Mercy" offers the reader the genre's best: a compelling personal narrative of peculiarly dark obsessions elegantly tethered to the wider culture. "Mercy" ultimately reveals as much about the reader and her world as it does about the narrator. Trahan's gift for embedding ultimate questions within subversive reflections on medicine, murder, and marriage, makes this memoir a fascinating read from a brilliant writer. Lovely."
-Kelly J. Beard, author of An Imperfect Rapture: A Memoir, winner of the 2017 Zone 3 Press Creative Nonfiction Book Award
"As a fellow true crime junkie, I marveled at Marcia Trahan's deep questioning of why she found herself drawn to such disturbing and violent stories. The answer she discovered was so satisfying that I felt like I learned something important about myself while reading this well written, deeply honest, and enthralling memoir."
- Julie Barton, New York Times Bestselling author of Dog Medicine: How My Dog Saved Me From Myself
"Mercy is a double-barreled narrative of health scares and murder stories. By combining these, Trahan highlights the fragility of both our physical and emotional lives. With surgically precise prose, she examines the push and pull of death – wanting one's own survival while being drawn to the tales of others' demise. This a book about violation: the sanctioned violation of the body during surgery, and the unsanctioned violation of bodily harm. Trahan does a masterful job of showing how, psychically, these two kinds of violence overlap. In the end, this is a beautifully written book about being merciful. Especially to ourselves, which sometimes can be the hardest kind of mercy to give."
-Sue William Silverman, author of How to Survive Death and Other Inconveniences

________________________________
About the Authors:
Marcia Trahan is a native Vermonter, a freelance book editor, and a semiprofessional patient. She earned a bachelor of arts in psychology from the University of Vermont and a master of fine arts in writing and literature from Bennington College.
Marcia's essays and poetry have appeared in Fourth Genre, apt, Clare, Anderbo, Blood Orange Review, Connotation Press, Kansas City Voices, and the LaChance Publishing anthology Women Reinvented: True Stories of Empowerment and Change. "Bloodletting," a post-cancer narrative, was nominated for a Pushcart Prize. Her work has twice received honorable mention in the New Millennium Writing Awards.
She lives in South Burlington, Vermont, with her partner, Andy, and their crazed feline companion, Bela.
________________________________
About the Moderator:
Rachel Monroe is the author of Savage Appetites, a meta-true crime book selected as a New York Times Editor's Choice and listed as one of the best books of the year by Esquire, the Chicago Tribune, and Jezebel. She was a 2016 finalist for a Livingston Award for Young Journalists and was named one of the "queens of nonfiction," along with Susan Orlean, Rebecca Solnit, and Joan Didion, by New York Magazine in 2016. She is a contributing writer for the Atlantic, and her work has appeared in The Best American Travel Writing 2018, the New Yorker, Esquire, New York Magazine, Texas Monthly, The Guardian, and others.
Event date:
Thursday, June 11, 2020 - 8:00pm
$18.00
ISBN: 9780988994577
Availability: Backordered
Published: Barrelhouse Books - June 11th, 2020
---