Virtual Book Launch: What You Become in Flight by Ellen O'Connell Whittet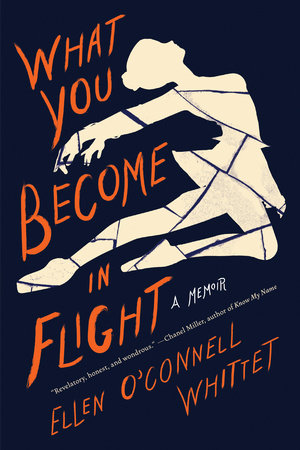 RSVP required.
Please fill out the form here if you plan on attending.
PLEASE NOTE: Submitting an RSVP for this event DOES NOT guarantee entrance. This is a free-access event — entrance will be on a first-come, first-served basis. All events are hosted via Zoom. Click to register if you are interested to join, and you'll get a reminder when it's time to log in.

________________________________
About the Book:
WHAT YOU BECOME IN FLIGHT is a lyrical and meditative memoir on the damage we inflict in the pursuit of perfection, the pain of losing our dreams, and the power of letting go of both. With a promising career in classical ballet ahead of her, Ellen O'Connell Whittet was devastated when a misstep in rehearsal caused a career-ending injury. Ballet was the love of her life. She lived for her moments under the glare of the stage-lights--gliding through the air, pretending however fleetingly to effortlessly defy gravity.
Yet with a debilitating injury forcing her to reconsider her future, she also began to reconsider what she had taken for granted in her past. Beneath every perfect arabesque was a foot, disfigured by pointe shoes, stuffed--taped and bleeding--into a pink, silk slipper. Behind her ballerina's body was a young girl starving herself into a fragile collection of limbs. Within her love of ballet was a hatred of herself for struggling to achieve the perfection it demanded of h
In this raw and redemptive debut memoir, Ellen O'Connell Whittet explores the silent suffering of the ballerina--and finds it emblematic of the violence that women quietly shoulder every day. For O'Connell Whittet, letting go of one meant confronting the other--only then was it possible to truly take flight.
"Illuminating and lyrical. Fierce and delicate. Raw and romantic. What You Become in Flight is a true work of art; a contradiction of soft and rough, the grey area between black and white. This is a book not just for dancers, and not only for women. Rather, it's a gorgeous lesson to consume, leaving you full of the complex feeling of what it is to be lifted high, dropped hard, and then build yourself back up. Ellen O'Connell Whittet's words will seep deep into you, fill your head with music, heart with empathy, and, ultimately allow you to understand what it is like to have had wings."
-Mira Ptacin, author of Poor Your Soul and The In-Betweens: The Spiritualists, Mediums, and Legends of Camp Etna

________________________________
About the Author:
Ellen O'Connell Whittet is an essayist and lecturer. Winner of the Virginia Faulkner Award, her work has appeared in Vulture, Paris Review, Buzzfeed, Teen Vogue, and Prairie Schooner. This is her first book.
About the Moderator:
Chloe Angyal is a contributing editor at MarieClaire.com and the author of the forthcoming book Turning Pointe (Bold Type Books, 2021).
Event date:
Tuesday, May 5, 2020 - 7:00pm

$17.99
Email or call for price.
ISBN: 9781612198323
Published: Melville House - April 14th, 2020
---